Bharat Padhe Online Campaign – The Ministry of Human Resource Development has launched the 'Bharat Padhe Online' campaign with the aim of getting the views of the people through online education in India during the lockdown. According to Human Resource Development Minister Ramesh Pokhriyal Nishank, the objective of this campaign is to invite the best talent in India to overcome the barriers of online education and promote the available digital education platforms.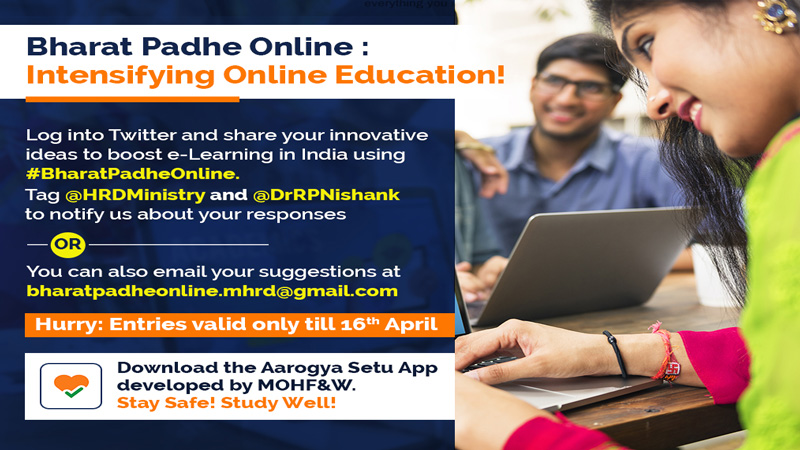 Who Participate in Bharat Padhe Online Campaign
Under the Bharat Padhe Online Campaign, the maximum number of digital education platforms will be connected and students in school or higher education will be added, in addition to this, teachers will also be connected to this campaign so that they can also make the online education system more by their experience and expertise. Contribute to making it better. By communicating with the teachers, they will be informed about the online education system in India, what are the drawbacks in the digital education platform right now and what are the difficulties they face in studying in the school classroom, which they can overcome through the online education system.
Share suggestions on twitter or mygov.in Website
Suggestions about this one week-long online India online campaign online education program can be posted on 'Bharat Padhe Online HashTag (#BharatPadheOnline)' or  mygov.in website. It also can be sent to [email protected]
Bharat Padhe Online Campaign schedule
In the first phase of this campaign, all suggestions will be taken through Twitter and MyGov website, after this, in the second phase, the top 10 suggestions will be sent to the ministry either by email or a message will be sent to their Twitter account, in which a Google form will be sent to them. In which they will have to explain their suggestions in detail. A team of social media, NCERT professors, NCERT professors, MyGov team and youth and ministry officials working closely with the ministry will be deployed to make this campaign a success. The first phase of this campaign will begin by 16 April, after which the names of the winners of the first phase will be announced on 18 April and the second phase will be started from 19 to 24 April and the names of the winners will be announced on 28 April.
Challenges
However, between online education, both teachers and students are facing challenges as many students face a lot of difficulties due to internet connectivity and speed.