Recent development: Since Shivraj Singh Chauhan has been appointed as the CM of Madhya Pradesh on 23 March 2020. The previous Kamal Nath government was unable to prove a majority in the floor test in the Madhya Pradesh Assembly. In this article, we will know the history of CM of Madhya Pradesh. We will also overview the constitutional process of appointment Chief Ministers. Kamal Nath's government lost the majority due to the resignation of 22 MLAs of the Congress government.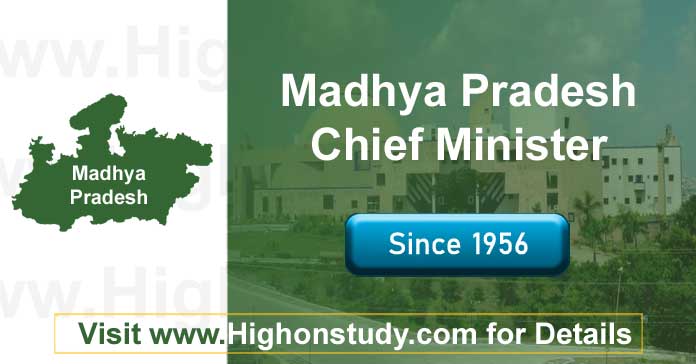 History: According to Article 1 of the Indian Constitution, India will be a Union of States. According to Article 163, each state has a Council of Ministers headed by the Chief Minister. The Chief Minister is appointed by the Governor. According to Article 164 of the Constitution of India, the Chief Minister is appointed by the Governor for a period of 5 years or until a majority is proved in the Legislative Assembly.
The first Chief Minister of Madhya Pradesh was Ravi Shankar Shuklji, he belonged to the Congress party.
Uma Bharti was the only and first woman Chief Minister of Madhya Pradesh.
Complete Chief Ministers List of Madhya Pradesh (MP)
| | | |
| --- | --- | --- |
|           Chief Minister (CM) | Tenure | Political party |
| Mr Ravi Shankar Shukla | November 01, to December 31, 1956 | Congress |
| Mr Bhagwantrao Mandloi | January 01, 1957, to January 30, 1957 | Congress |
| Dr Kailashnath Katju | January 31, 1957, to April 14, 1957 | Congress |
| Dr Kailashnath Katju | April 15, 1957, to March 11, 1962 | Congress |
| Mr Bhagwantrao Mandloi | March 12, 1962, to September 29, 1963 | Congress |
| Mr Dwarka Prasad Mishra | September 30, 1963, to March 08, 1967 | Congress |
| Mr Dwarka Prasad Mishra | March 09, 1967, to July 29, 1967 | Congress |
| Mr Govindnarayan Singh | July 30, 1967, to March 12, 1969 | Joint Legislative Party |
| Mr Nareshchandra Singh | March 13, 1969, to March 25, 1969 | Joint Legislative Party |
| Mr Shyamcharan Shukla | March 26, 1969, to January 28, 1972 | Congress |
| Mr Prakash Chandra Sethi | January 29, 1972, to March 22, 1972 | Congress |
| Mr Prakash Chandra Sethi | March 23, 1972, to December 22, 1975 | Congress |
| Mr Shyamcharan Shukla | December 23, 1975, to April 29, 1977 | Congress |
| President's Rule | April 30, 1977, to June 25, 1977 | |
| Mr Kailash Chandra Joshi | June 26, 1977, to January 17, 1978 | Janta Party |
| Mr Virendra Kumar Sakhalecha | January 18, 1978, to January 19, 1980 | Janta Party |
| Mr Sunderlal Patwa | January 20, 1980, to February 17, 1980 | Janta Party |
| President's Rule | February 18, 1980, to June 08, 1980 | |
| Mr Arjun Singh | June 09, 1980, to March 10, 1985 | Congress |
| Mr Arjun Singh | March 11, 1985, to March 12, 1985 | Congress |
| Mr Motilal Vora | March 13, 1985, to February 13, 1988 | Congress |
| Mr Arjun Singh | February 14, 1988, to January 24, 1989 | Congress |
| Mr Motilal Vora | January 25, 1989, to December 08, 1989 | Congress |
| Mr Shyamacharan Shukla | December 09, 1989, to March 04, 1990 | Congress |
| Mr Sunderlal Patwa | March 05, 1990, to December 15, 1992 | BJP |
| President's Rule | December 16, 1992, to December 06, 1993 | |
| Mr Digvijay Singh | December 07, 1993, to December 01, 1998 | Congress |
| Mr Digvijay Singh | December 01, 1998, to December 08, 2003 | Congress |
| Ms Uma Bharti | December 08, 2003, to August 23, 2004 | BJP |
| Shri Babulal Gaur | August 23, 2004, to November 29, 2005 | BJP |
| Mr Shivraj Singh Chauhan | November 29, 2005, to December 12, 2008 | BJP |
| Mr Shivraj Singh Chauhan | December 12, 2008, to December 13, 2014 | BJP |
| Mr Shivraj Singh Chauhan | December 14, 2013, to December 16, 2018 | BJP |
| Shri Kamal Nath | December 17, 2018, to 20 March 2020 | Congress |
| Mr Shivraj Singh Chauhan | March 23, 2020, to Present | BJP |